Components That Make or Break a Project
Webinar 2 in the 2024 DCI Colorado Challenge Series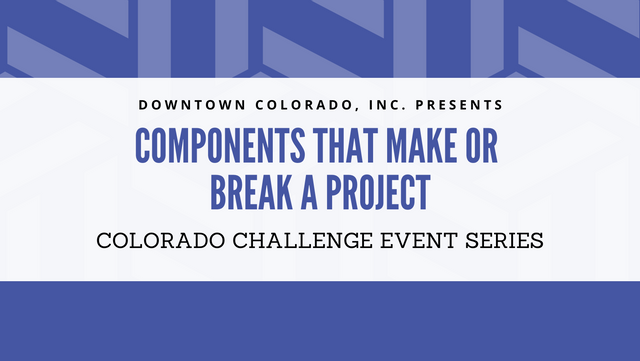 Description
What critical knowledge needs to be shared and understood by all parties for a successful project? We discuss how to consider being inclusive and thinking about all stakeholders, changes in the market, and local politics to consider, and we look to great community examples to illustrate success.
PROGRAM OVERVIEW
Downtown Colorado, Inc. (DCI) is pleased to invite your participation to learn more about an opportunity to serve as a pilot community, free of charge, in a program with access to extensive training, workshops, and technical assistance to consider community revitalization and property redevelopment. The revised Colorado Challenge Accelerator Program will help establish a list of opportunity sites for investment, building a stronger community team to connect public and private resources to get things done, and help shape a funding strategy with a timeline and talking or proposals points to share with funders.
Curious how DCI can support your community? Start off with our Community Vitality and Capacity Check, linked HERE.
9:00 AM MST
to 10:30 AM MST
RSVP Required
Virtual Event
Please note that this is a virtual event and has no physical location.