Tax Increment Financing 101 - Northern Colorado
Join us for a day-long event to learn more about TIF.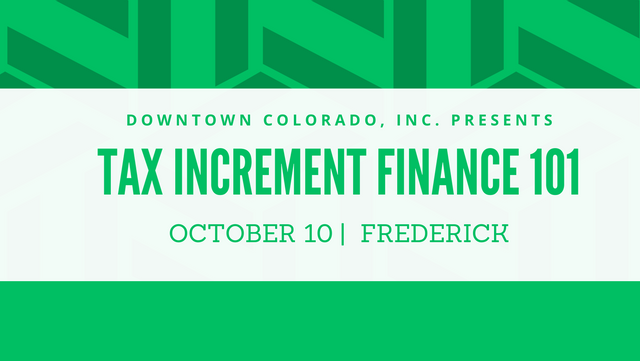 Description

Downtown Colorado, Inc., (DCI) is Colorado's home for training, best practices, and networking for Tax Increment Finance (TIF) and building knowledge around Downtown Development Authorities (DDAs) and Urban Renewal Authorities (URAs) in Colorado. We are pleased to announce our 2023 Tax Increment Finance 101 Northern Colorado session in Frederick on October 10th, 2023 starting at 9:00 am. Join us to expand the understanding around how we use tax increment finance (TIF) to make development happen that fits your community vision, and identify the approaches to partnerships for leveraging TIF by urban renewal authorities + downtown development authorities. Space is limited to 40 attendees, so register now!
The Town of Frederick is contributing a bucket of range balls to each attendee, so be sure to bring your clubs!
Be sure to log in to DCI with your member profile to see the discounted member registration rate!

Bella Rosa Golf Course Clubhouse
5830 Bella Rosa Parkway, Frederick, CO 80504
9:00 AM MDT
to 4:00 PM MDT