The Good Business Colorado Level Up Academy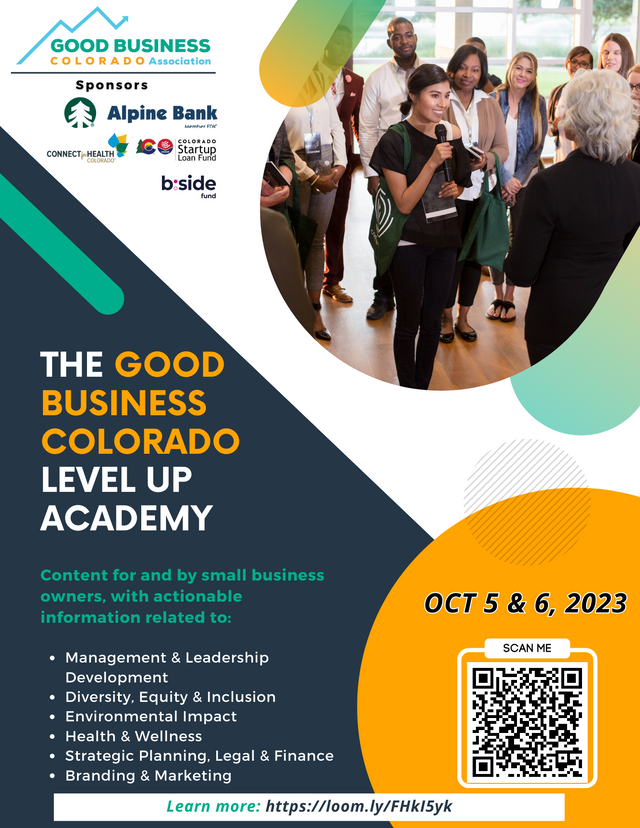 Description
Where: Thursday online and Friday at the Lowry Conference Center

Why: The purpose of the Good Business Colorado Level Up Academy is to provide employers and entrepreneurs across Colorado with access to educational programming and connectivity with peers to support them on their journey to running better businesses.
Good Business Colorado exists to serve the companies that understand business success cannot be measured by profit alone and that true success means that our planet, communities, and bottom lines are all thriving. Many businesses excel in a particular area of their business – environmental sustainability, industry-leading workplace policies, or making unique and meaningful contributions to their communities – but no company is perfect. GBC Level Up Academy programming aims to meet business owners where they are at, and provide access to educational programming, a peer community of practice, and wrap-around supports that enable companies across the state to be even better – one innovation at a time! This is not a conference for hypotheticals and small talk, it's a meeting of the minds for action takers and doers! The Level Up Academy will feature real business leaders, walking the talk and sharing how they've done it - the good, the bad, the ugly, and the lessons learned.

Background and context: We reached out to the GBC community to get ideas for our 2023 educational programming, with the thought that we would do a 2nd annual "Helping Good Businesses Be Better Lunch & Learn Series." We were thrilled to receive over 70 ideas for educational workshops, and the GBC Educational Programming Committee decided rather than try and narrow down to 10 proposals, we'll host a conference to allow many more people to bring their educational programming to life.

Who should attend the conference? The GBC Level Up Academy is a conference for business and nonprofit leaders looking to learn from their peers and adopt or refine business practices that better support their employees, increase community engagement, or improve their environmental impact. Although not finalized just yet, based on the crowdsourced proposals, we envision having the following tracks for the conference:
Management & Leadership Development
Diversity, Equity & Inclusion
Environmental Impact
Health & Wellness
Strategic Planning, Legal & Finance
Branding & Marketing
Virtual Event
Please note that this is a virtual event and has no physical location.