Open for Business: Toolbox for Recruiting Retail
---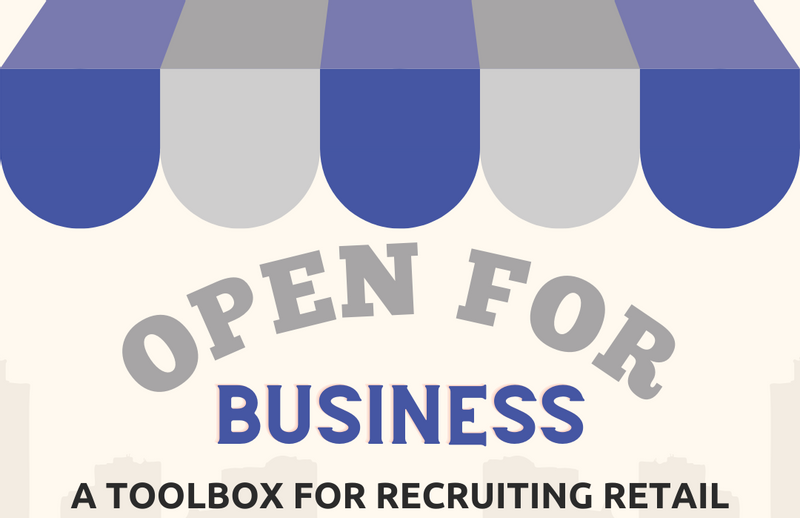 "90% of success in recruitment comes from personal relationships and consistency cultivated over time."


OVERVIEW
Downtown Colorado, Inc. (DCI) was pleased to kick off a webinar for communities looking to create a downtown through retail recruitment. The opening webinar in this series will feature Julie Jacoby, City of Thornton and Stephanie Otte, City of Westminster as they share the top questions to answer for retail recruitment. DCI is pleased to moderate with the help of DCI board member, Jill Mendoza, Town of Superior Economic Developer for this dynamic and interactive webinar discussion.
UNDERSTANDING THE COMMUNITY VISION
Most communities are looking for a gathering place or core area where people identify with the heart of the community. In a non-traditional downtown, this could be a corridor or newly created area.
Aligning the vision with the political framework and the market always creates challenges. It is important to balance the need to spark momentum and also to wait for the right fit.


EDUCATE EVERYONE
It is a process that takes years to hold all of the conversations and ensure that the community, leadership, and partners are in the same state of mind. An important piece of this is understanding and commuting within the political climate, sometimes it isn't possible to wait for the perfect business or a game changing catalyst, sometimes it is just important to get some wins. This requires patience, which isn't always in large supply when the community is looking for a win. If you have the opportunity to bring a catalyst, having the education already completed allows you to move quickly - at the speed of business.
Get started by explaining the process, managing expectations, and delivering a clear retail strategy backed up by data. Understand the types of businesses that would thrive. Consider a city-wide strategy, and then go deeper into the planned "core" area. Consider "retail pruning", finding the right amount of retail for the area. The amount of retail should match the density of the area, and if the density isn't there, consider different types of uses, services, activities, etc.
Develop relationships with property owners and start with educating them on the vision and how you can support them. Develop incentives that encourage property owners to invest in the vision in their buildings and with their leases. Sometimes it doesn't work, and the community has to be ready to remove blight or dangerous properties that suffer from continued disinvestment.


KNOW YOUR MARKET
The idea of a trade area, looks at the site and area data such as demographics, daytime population, traffic counts, access, and parking. These data reflect the customer and drive time or unintended boundaries that impact the ability to draw a customer. For example, I-25 is considered a boundary because people don't like to cross that line if they can help it. There are larger businesses, like TopGolf, that draw from a regional area. Smaller businesses will draw from a smaller area. Demographics are pretty detailed and get into the level of education, and other details up to date and off the top of head, because a delay will cost you the deal. It is also important to note that daytime population is a key for restaurants who will need lunch traffic with corporate cards to survive.
In an area where the community was built as an extension of another urban area, urban sprawl, it is important to embrace the area that the community draws from. Looking at the commercial zoning and the data listed above, gives the business owner the background and understanding they need. Avoid a "list" where a consultant group just hands you a report, instead use a synergistic approach.
A few tools recommended are 1) Esri Business Analyst: a go to source for all corporate needs; 2) CoStar: a list of needed data at your fingertips; and 3) Pacer AI: the details of where people are coming from and going in the community. Additionally, the details of all available sites is an important data set to update regularly and be able to share quickly. Plan to , Business Mix, Zoning, Acreage or Square Feet, Price Point, and Highest and Best Use. While the tools listed above come at a cost, they can save a lot of time and easily provide all of the data needed.
Understanding the criteria of an experienced retailer is really important. A low-risk retailer is one who will be successful no matter what, they will have very clear requirements. They may be as detailed as what side of the street they will locate on, or how many left turns it takes to get into the site. The higher risk retailers, such as smaller or mom and pop retailers, have not figured out criteria and so there is a larger chance of failure.
Plain Vanilla Shell is another tool that provides a list of what retailers are looking at Colorado and what are the site selection requirements of that retailer. Income level, education level, preferred gross leasable area, type of environment (strip center, etc), and how many they plan to open. You can also find data from Business Owners, Tenant Site Selectors, Brokers, or Consultants. Sometimes the consultants have a personal relationship that is valuable for initial contact.
Knowing your target includes understanding their risk level, building relationships through networking and conferences. Relationships are always key, usually a company will use a local site selector, some of the key groups to follow and meet people include International Council of Shopping Centers (ICSC), Colorado Real Estate Journal (CREJ), NAIOP, the Commercial Real Estate Development Association (NAIOP) or BisNow. There are different levels of engagement at ICSC and it is not always worth it to have a booth or even to use this beyond the networking aspects of the event.


INCENTIVES
Financial Support, where there is a will there's a way, and if your community vision asks for the business, there must be a way to make it happen. With retail there is a return on investment, knowing what that is and communicating it to the leadership is important. Businesses must accurately understand the cost of entry (Municipal Fees and Upfront Costs) and you must know the tools in the toolbox. For example, if the municipality will waive or reimburse tap fees, it can be a huge benefit to attracting business.
Consider grants that will foster investment in areas that fit the vision, such as grants to encourage building outdoor patios , commercial kitchens, or other amenities that will stay in the community regardless of the business success.
GET CREATIVE
As online shopping has changed our retail world, we need to consider different ways to do place making without the same level of clothing retailers we used to have. Upstairs Circus is a great example of a retailer and experiential business that creates something you can't buy online. Rethinking spaces, mixed use space, mullet retail, which are all ways of bringing multiple uses, and points of interest into an area. Consider mixing it up with restaurant, retail, experiential and all interacting and interfacing with each other.
Expanded patios, food and been halls, include smaller service oriented businesses like flowers and liquor, along with restaurants and retail. This creates a one stop shop for the community members to come and buy everything they need for a party or just family dinner.
Pop up and Short Term uses are a great way to test a concept and activate a space. This can often lead to a longer term agreement, but allows some flexibility in the initial attraction. Pop up will typically use a Licencing Agreement, rather than a Lease, which gives the property owner greater power to end the partnership and relocate the business.
EXPANSION TRENDS + RESOURCES
Experiential, experiential, experiential… Pickleball, corn hole, and other experience based businesses are looking in Colorado. Finding out these details is possible with local brokers, consultants, and even just by watching the news, LinkedIn, and Denver Business Journal. Some of the key groups to follow and meet people include International Council of Shopping Centers (ICSC), Colorado Real Estate Journal (CREJ), NAIOP, the Commercial Real Estate Development Association (NAIOP) or BisNow.
Julie Jacoby, Economic Development City of Thornton
Julie Jacoby has served the Economic Development team in the City of Thornton for a decade. As the Retail Administrator, Julie oversees the retail business attraction process which has included community-changing projects such as the Denver Premium Outlets, TopGolf, Main Event, King Soopers Marketplace, and the newly announced Candlelight Theater, and Chicken N Pickle.
Prior to joining the City, Julie's extensive managerial and marketing career spanned a variety of industries, including retail, development, broadcasting, hospitality, education, and eight (8) years with General Growth Properties, Inc., one of the world's largest shopping mall developers. In 2011, Julie took her retail knowledge to the public sector, serving as an Economic Development Specialist for the City of Commerce City before joining her hometown team in the City of Thornton in 2014. Julie is an active member of the International Council of Shopping Centers (ICSC), Economic Development Council of Colorado (EDCC), and the International Economic Development Council (IEDC).
Julie holds degrees in Communications and Political Science from Valparaiso University, and her CEcD certification in Economic Development from IEDC. She has lived in Thornton since 2001 with her husband, Jeremy, and two daughters, Jessica and Johanna.
Jill Mendoza, CEcD, Economic Development Manager + Downtown Colorado, Inc. Board of Directors
Jill Mendoza, CEcD, is the Economic Development Manager for the Town of Superior. Jill is a hybrid professional working at the intersection of marketing, economic and business development. She is an urban innovator who is passionate about building communities that enhance the quality of life and quality of place for their residents through community-based economic development strategies. A strategic-thinker with a keen interest in entrepreneurship, she facilitates public/private partnerships to leverage investment and improve the economic vitality of the communities in which she works. She places a strong emphasis on growing and cultivating vital relationships with community members, businesses, stakeholders, executive management and elected officials to ensure goals and objectives are achieved.
Stephanie Otte, City of Westminster
Stephanie started with the City of Westminster as a Community Assistant at City Hall in 2019. Stephanie recently joined the Economic Development team in 2022 as Business Navigator. In the role of Business Navigator, Stephanie is working with existing and startup businesses in the Westminster community. She is focused on introducing businesses to the multiple opportunities and resources that are available in Westminster. Stephanie provides business outreach specifically for locally owned businesses and restaurants. She engages in retail strategy and recruitment and is a trusted point of contact for the business community.
Stephanie has over twenty years of experience working in commercial real estate with a focus on retail and restaurants. She worked for multiple commercial developers as a property manager and leasing manager for several mixed-use projects in the Denver metro area. Stephanie is passionate about working with locally owned small businesses. She has been a Westminster resident for over ten years and enjoys working in her community. Stephanie has a Bachelor's of Science in Business Management with an emphasis in Marketing from The University of Northern Colorado.