Tech for Tiny Towns (and all others too!)
---
In an era where technology is reshaping the landscape of governance, small governments are finding themselves at a unique crossroads. The once insurmountable challenges posed by limited resources, bureaucratic inefficiencies, and communication barriers are now being met head-on with innovative solutions fueled by the power of technology. From streamlining administrative processes to enhancing citizen engagement, the marriage of governance and technology is ushering in a new era of efficiency, transparency, and inclusivity for small governments worldwide.
Every month, DCI brings together Tiny Towns to discuss issues specific to working and living in towns with populations under 1,000. There are many technological tools to help Tiny Towns navigate their many roles. Here are just some of tools shared that help with Communications, Community Engagement, and Organization.
COMMUNICATION
Statewide Internet Portal Authority
Website Building and Grants

Brokering Significant Discounts on Tech i.e.
Microsoft, Qualtrics, Docusign
Cybersecurity
Constant Contact and MailChimp - Mass Marketing and Emails
Newsletters
Event Blasts
Surveys
RSVPs
Conversion to Social/PDF
Engagement Tracking
While Constant Contact is an extremely useful tool it can be quite expensive depending on how many contacts you have, there are similar tools that will help serve the purpose of communicating with big groups of people with design templates. These are:
Mailchimp - There are free low cost ($13/month) options to be able to send design and send email blasts
Adobe Express - This is a free service with tons of templates for videos, PDFs, blogs
Divi Layouts

- There are hundreds of free templates through Divi designers that you can use to layout newsletters and then create a PDF and print to share with the community
ChatGPT is a really strong tool to help come up with content that you can help shape. Here is an example when I asked it to "Make a social media post inviting citizens to contribute a planning process"
📢 Calling All Citizens! 🗣️ Join the Planning Process and Shape Our Community's Future! 🏙️
🌟 We believe that the best way to create a thriving and vibrant community is by working together. That's why we need YOUR input to help shape our city's future!
🤝 We welcome citizens of all ages, backgrounds, and perspectives! Your voice matters, whether you've lived here for years or just moved in recently. Let's create a community that reflects the dreams and aspirations of ALL its residents!
🚀 Be part of the change you wish to see! Together, we can build a better future for our city. Don't miss this opportunity to make a difference.
#CommunityPlanning #CitizensFirst #ShapeOurFuture #GetInvolved #CommunityMatters
These are open source collection of stock photos and royalty free images that can be used for filling in space on marketing materials.
Canva is a powerful tool for graphic design including powerpoints, event graphics, reports
Templates
Graphics
Interesting Fonts & Icons
User Friendly
Premium Only
Resizing Designs
Brand Kit
Connects to other apps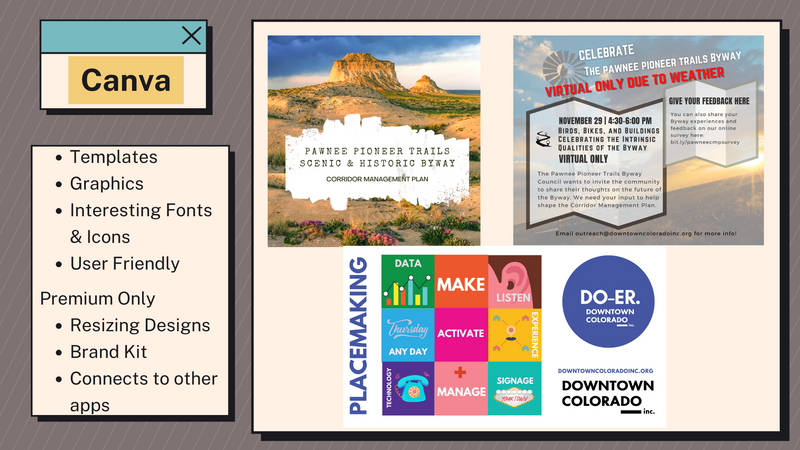 COMMUNITY ENGAGEMENT
Zoom Apps - AI Notetakers
Highlights, Action Items, Bookmarks
Recording and Transcription
FREE
Automatically highlights important topics and nudges
Take notes and access previous meetings
Limited free features
In-Meeting Engagement
Poll Everywhere - engage audiences across hybrid workspaces through live online polling, surveys, Q&As, quizzes, word clouds
Mentimeter - Collect input and see it appear in real-time on the screen, online can participate just like those in the room, use a variety of different features to ask your questions.
Community Survey Tools
Google Forms - This is the most user friendly survey tool and allows you to share results as they come in and also export images of results easily to use on presentations.
Survey Legend - This tool allows you to use all typical survey tools plus image ranking for establishing precedents and is easily viewable on mobile devices
Polco - Polco works specifically with governments to collect resident feedback when traditional engagement methods fall short. They are very knowledgeable about trends and can support when you need to validate results.
ORGANIZATIONAL TOOLS
Google Forms
Jamboard
Google Slides
Google Docs
Track your time spent on Projects for grants, council, etc.
A collaboration tool that organizes your projects into boards. In one glance, Trello tells you what's being worked on, who's working on what, and where something is in a process.
You can work with your team on slack easily. Send messages, documents, and internal messages to stay organized.
Let us know if you have any other resources to use and reach out with any questions!