Hot Topic: Missing Middle Housing
---
OVERVIEW
On July 18th, DCI and Castlewood Partners shared a lively walk through the "missing middle" and how to finance it. DCI was pleased to host community leaders from across the state, from communities large and small for an interactive webinar. Thank you to Micheal Leahey, Castlewood Partners for an excellent presentation and discussion with key ideas for moving projects forward.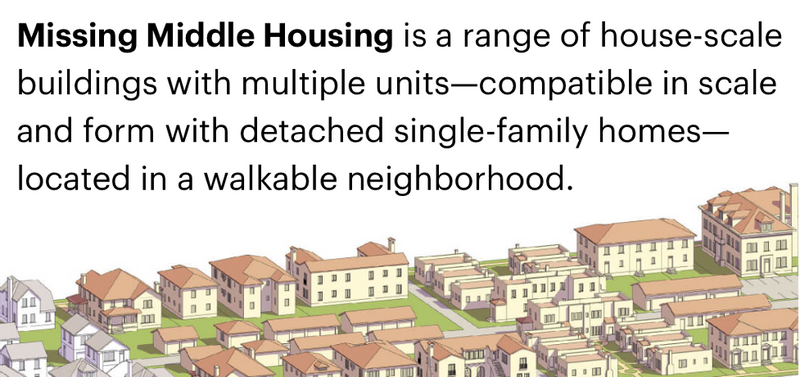 THE ISSUE
"There is an acute shortage of affordable middle-income housing in the State, particularly in fast growing areas where jobs are being created. Housing is increasingly not affordable for essential workers such as nurses, teachers, firefighters, and other members of communities who earn too much to qualify for governmental housing subsidies, and for whom the market is not building new housing." -Colorado Senate Bill 22-232
WHAT IS MISSING MIDDLE?
The missing middle refers to homes and apartments for a community's workforce - nurses, teachers, firefighters, managers - that make too much to qualify for subsidy, but not enough to afford the sky-high cost of housing. Colorado Department of Housing, defined Missing Middle in the last round of ARPA funds by county. The missing middle is defined by 80%-120% AMI in Colorado. There are also "Terms of Art: that are often used to refer to missing middle such as Workforce Housing + Attainable Housing.
WHO ARE THE MISSING MIDDLE?
Workforce.

A primary target to have living in your community because commuting, especially for public employees, civil servants, and some non-profit or community focused roles.

Work From Home.

Many are not high earners and can be left out of market studies, so they might be a shadow need.
BOTTLENECKS FOR MISSING MIDDLE
Financing these projects is possible, but takes a special approach to the capital stack.
Workforce Specific Development Expertise.

Larger single family might be the pr

imary area of work for developers.

Workforce Specific Capital (public and private).

Deals may not pencil out because of the return on investment 15%-20% for equity investors. This may be balanced with social equity investments.

Construction Innovation.

Modular, container, etc. provide new opportunities but may face different challenges with building codes, zoning, etc.

Public Perception of the Need for Missing Middle.

Smaller units may be necessary, and communities may not understand who the primary clients are for missing middle.
EXISTING DIVIDES TO CONSIDER
Market Rate vs. Missing Middle.

Market Rate has the most appeal and highest return, but if a community has stable jobs that are responsible for the quality of life, that might actually mitigate risks for return on investment in a different way.

Rural VS Urban

. Rural can access USDA at 4% for mortgages, but it is a long and involved process. Over 25K population, community may be ineligible for these funds.

Rental VS For Sale.

The world is split in two, if there are coops or other hybrid models that are evolving, the financing will require you to pick one. CHFA and DOLA are our best friends because there is support from state agencies for a variety of types of housing. Construction Financing and Gap Financing are both available with CHFA, Social Impact Funds, Weave Finance, Impact Development Finance, etc. For sale is often trickier. To best take advantage of the sources of funds, consider a mix of housing, incomes, and financing.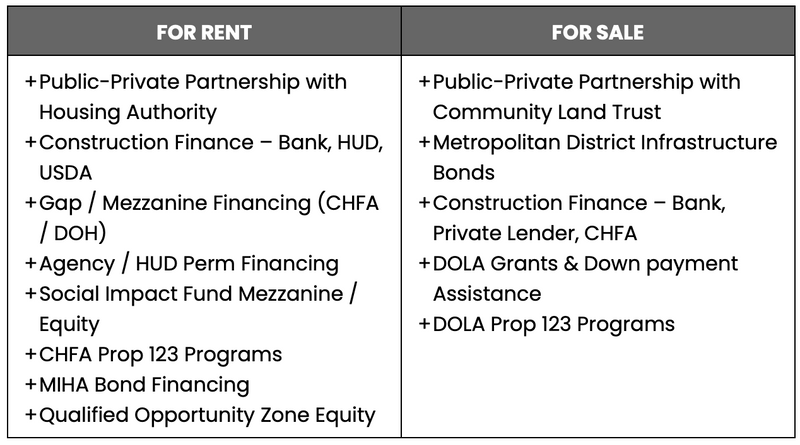 CREATING A MISSING MIDDLE PROFORMA
Missing Middle isn't Market and LITC
Back end of Rental Workforce Housing.

Lock in revenue and value of the project by plugging in AMI you want, to show the maximum value. This allows you to seek the funder you want, based on their requirements.

Bank Loan.

There will almost always be a bank loan, in addition to Federal Government, your best partner in Missing Middle. Once you have the bank loan, you can see the gap. This is where the art of missing middle comes to play. Market rate financing won't work for missing middle most of the time, so look for federal, state, and social equity investment.
TOP STRATEGIES
The key is public private partnerships, a literal special limited partnership with a public, private, and non-profit entity where they each get a benefit. The same statues that allow this for LITC, allow this for Missing Middle as long as the community decides to form it.
MODELS TO CONSIDER
Local housing authority takes a small interest in the project owned by a private developer. This makes the project exempt from taxes. This is multiplied over all the years of the project. Tax breaks can then be provided through lower AMIs, exchange of deed restrictions for tax incentives.

Texas Private Finance Corporation Model, is being combined with a model in Colorado. Conceptually, it is a bond to finance the Missing Middle. Developer deeds land to the housing authority, who owns the land in perpetuity. It helps with public acceptance and the public control over time, A great example of policy entrepreneurship.
STRATEGY BY HOUSING TYPE
Rental.

Housing Authority is key for property tax incentive.

For Sale.

Community Land Trust model is key.

Tax incentives aren't as effective because once the property is built and sold, there isn't a need for the tax incentives. The land trust can apply for grants, and the trust can buy houses from developers.
TAKE AWAYS
Challenge yourself to find a partner on the other side of the public / private divide.

Make sure that you are bringing every source of financing possible to the project.

Prioritize mixed-income for a healthier community ecosystem.
QUESTIONS
Would an affluent community be able to qualify? Yes, it may be easier for you because 80% of AMI is higher. The challenge may be finding folks who qualify at that level.
When partnering with the private sector, what mechanism ensures a fair return without over subsidizing a project?

In the market rate world, the developer fee is approximately 4%, so that the developer can squeeze out a little more return on top of the profit from sales. Through workforce and missing middle, the developer fee is their only profit and the key is that they will need to accept 10%-12% profit in the developer fee. The argos=emnt that this is a smaller profit but a lower risk.