DCI Mobile Tour 2022
---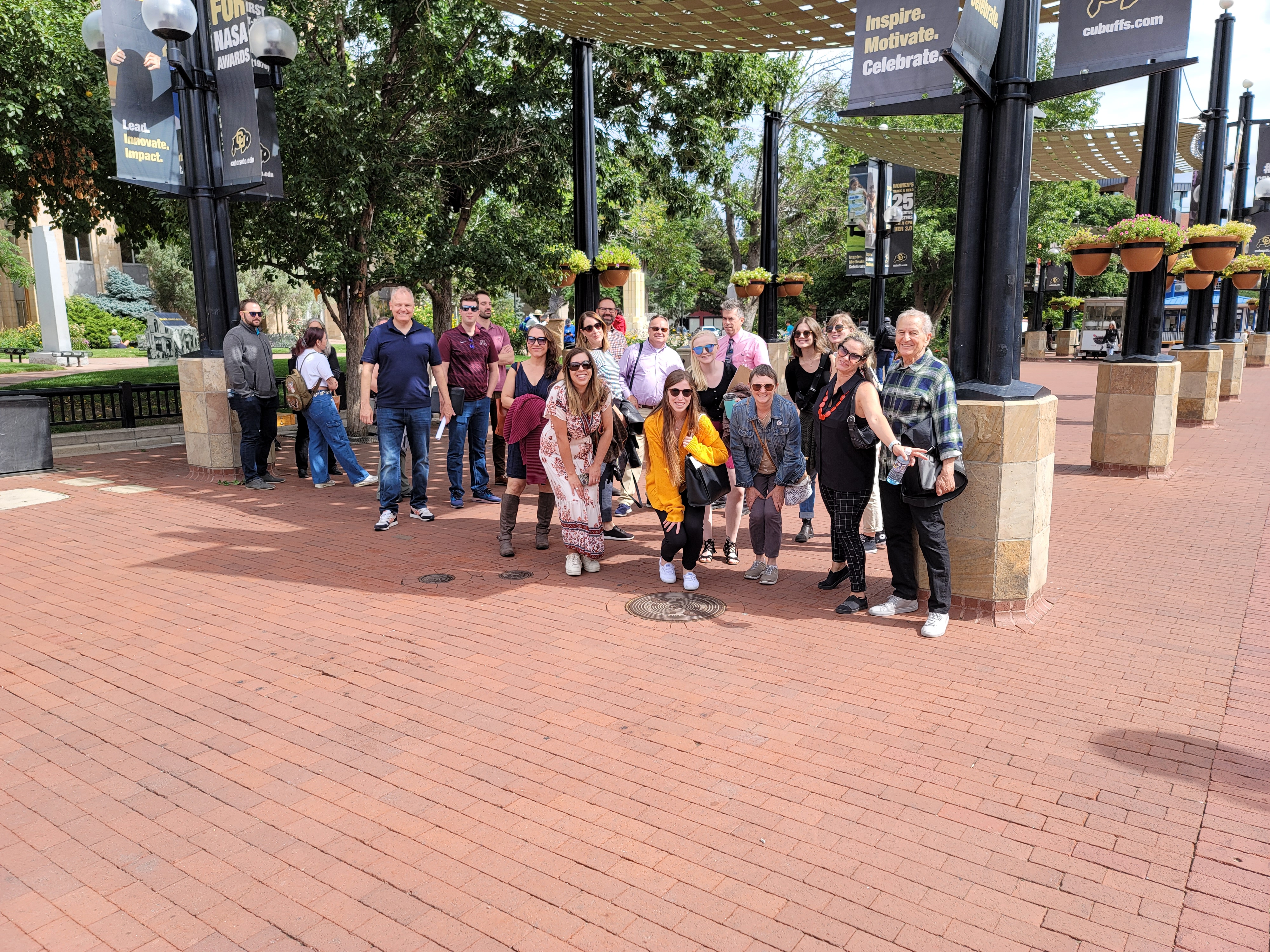 On September 15th, Colorado Municipal League (CML), Downtown Colorado, Inc. (DCI), + American Planning Association (APA) Colorado were pleased to host the fifth annual financing mechanism mobile tour visiting Business Improvement Districts, Downtown Development Authorities (DDAs), and Urban Renewal Authorities (URAs)  in our member  communities in Boulder and Longmont!
Our participants included a variety of Colorado communities and some private sector partners curious about districts and authorities that can focus on redevelopment, reuse, and place management in the downtown or commercial areas of your community. We spent the day with a great group of people exploring these tools, how they work in collaboration, and what their plan is for the future.
The first stop was Downtown Boulder where we were hosted at the Museum of Boulder and heard from Boulder Leaders on the "how" and "why" Boulder chose to support Downtown and to share some previews of their newly developed vision plan. Thank you to our hosts Aaron Brockett, Mayor of the City of Boulder; Chip, Chief Executive Officer, Downtown Boulder Partnership; and the fabulous Richard Foy, Designer of the Pearl Street Mall.
Following breakfast we enjoyed a tour of Pearl Street to see Boulder Downtown's Vitality, outdoor dining, street closures, civic area master plan, supporting people with no fixed address, multimodal transportation, while we walked the mall and celebrated 45 year of Pearl Street.  Thank you to our tour guides and hosts from Downtown Boulder Partnership.
The tour headed to Longmont for a working lunch in Downtown Longmont at the The Times Collaborative, a new co-working space, and catered by The Roost. We were pleased to hear a warm Welcome from Joan Peck, the Mayor of Longmont before jumping into an Economic Development Partners Panel discussing regional activities that have been accomplished through collaboration. Thank you to our panelists and partners in attendance:
Chip, Chief Executive Officer, Downtown Boulder Partnership
Jessica Erickson, Longmont Economic Development Partnership
Carla Colin, Latino Chamber of Boulder County
Scott Cook, Longmont Chamber
Chris Jones, Interim Director of Community Vitality, City of Boulder
Joni Marsh Longmont Assistant City Manager
Kimberlee McKee, Longmont Downtown Development Authority, Executive Director
Corine Waldau, Senior Director of Economic Vitality
The Longmont Tour included two sections, the Downtown Tour and the Sugar Mill Urban Renewal project. To set the stage for the downtown portion, we were honored to hear the History of Longmont Downtown Development Authority and the Spoke on Coffman, Affordable Housing on South Main Street presented by Kimberlee McKee, Longmont Downtown Development Authority, Executive Director and Lauren Cely, Boulder County Housing Authority. Our walking tour demonstrated the role of the Downtown Longmont in working with businesses, property owners, and developers for integrated architecture and urban design linkage between public improvements and private investment.  Thank you to our tour guides Kimberlee McKee and, Del Rae Heiser of Longmont Downtown Development Authority.
To showcase some recent urban renewal work in Longmont, we discussed the history of urban renewal as well as a current project with the Longmont Sugar Mill highlighted by Tony Chacon, Longmont URA Director, and Charlie Woolley of St. Charles Town Company. We then toured the site and met the owners.
It was a great day filled with "Ah Ha" moments and lots of great discussion! Thank you to all who joined us and we look forward to doing it again next year.


Remember there are 5 AICP Credits available for this tour!
Please visit DCI URA + DISTRICT RESOURCE PAGE for more resources!
Remember to maintain your DCI Membership and join our DCI
LinkedIn https://www.linkedin.com/company/downtown-colorado-inc./