EXPLORING THE COMMUNITY LAND TRUST
---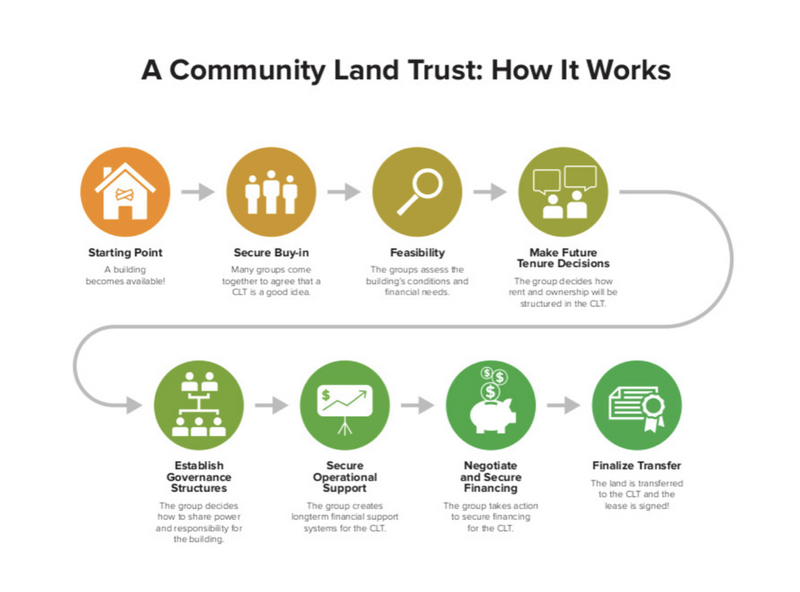 EXPLORING THE COMMUNITY LAND TRUST
Have you heard of community land trusts? Still a little unsure what exactly they do (and how they are relevant to your community)? Then this post is for you! 
WHAT IS A COMMUNITY LAND TRUST? 
Community land trusts, or CLTs, are nonprofit, community-based organizations that buy or lease land to then build and retain affordable housing in the area. CLTs make housing more affordable by essentially 'subtracting' the value of land from the home value. In a state like Colorado where most land is valuable due to urban or natural resource proximity, having homes simply valued at the construction cost and not by the land it sits on can be a solution for permanently affordable housing. Other benefits of CLTs also include increased community development, local agency, and improved planning practices.
HOW ARE THEY GOVERNED? 
A board of different stakeholders, typically from within and around the community, govern a CLT. This can include different people who live in the lease housing, live in the land area, local government officials, funding agencies, nonprofits, and advisors. In most models, homeowners/renters of CLT homes make up more than half of the board.
WHAT SERVICES DOES A CLT PROVIDE? 
The greatest service provided by a CLT is permanent affordable housing! However, another great service is the resale formula established by the board. The resale formula ensures that a homeowner still gains profit from selling their house but is still affordable for a new buyer. 
HOW ARE THEY FUNDED?
Most funding for CLTs comes from state and national grants, however many organizations do need to rely on private funds to lease land. The Department of Housing and Urban Development also offers grants:
HOME Investment Partnership Program
Self-Help Homeownership Opportunity Program (SHOP)
Community Development Block Grant (CDBG)
CAN A COMMUNITY LAND TRUST BE A USEFUL TOOL FOR YOUR COMMUNITY? 
There is a lot of potential with CLTs, particularly in urban and suburban areas. Rural CLTs are still relatively new but gaining traction on the east coast. CLTs can enhance communities, promote accessible homeownership, and prolong the length of stay of community members in a town. They are a successful model of affordable housing and can inspire a great deal of change in community development and planning!