2022 DCI Governor's Awards for Downtown Excellence Winners!
---

Downtown Colorado, Inc. (DCI) is pleased to announce the winners of the 2022 Governor's Awards for Downtown Excellence! Since 2003, the Governor's Awards for Downtown Excellence have recognized outstanding projects and people in Colorado that demonstrate creativity in the face of challenges, unlikely and enduring partnerships and dedication to community to further downtown initiatives.
This year DCI was able to host this years Governor's Awards for Downtown Excellence in person at the Mining Exchange Hotel in Colorado Springs during the annual DCI IN THE GAME conference. On Thursday April 14th, DCI hosted an 80's themed dinner reception to announce the winners.
2022 DCI Governor's Award for Downtown Excellence Winners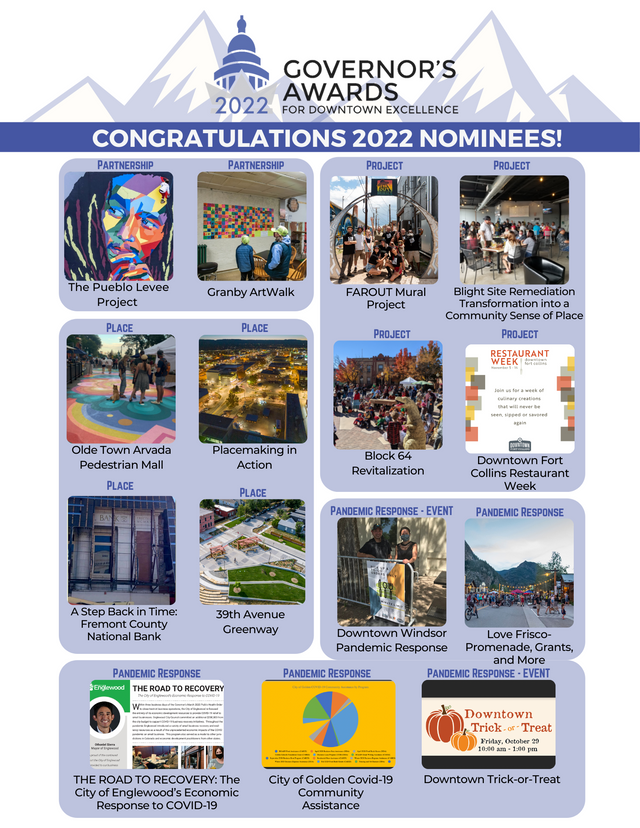 The 2022 Governor's Awards for Downtown Excellence winners are:
Best Pandemic Response for Business + Community Response

THE ROAD TO RECOVERY: The City of Englewood's Economic Response to COVID-19
Love Frisco- Promenade, Grants, and More
Best Pandemic Response for Events

Downtown Trick-or-Treat
Downtown Windsor Pandemic Response
Best Projects

Downtown Fort Collins Restaurant Week
Block 64 Revitalization
Best Partnerships

The Pueblo Levee Project
Granby ArtWalk
Best Places

39th Avenue Greenway
A Step Back in Time: Fremont County National Bank
Each year the Governor's Awards for Downtown Excellence serve as a highlight for DCI's IN THE GAME Vibrant Downtown Event, for downtown champions, resources, and stewards.
Thank you to the Governor's Awards for Downtown Excellence Jury:
Steve Art
Kat Conner
Ben Levenger
Amy Mullen
Tom Quinn
Terri Takata-Smith
Colleen Wohnoutka
Vicki Mattox Downtowner of the Year Awards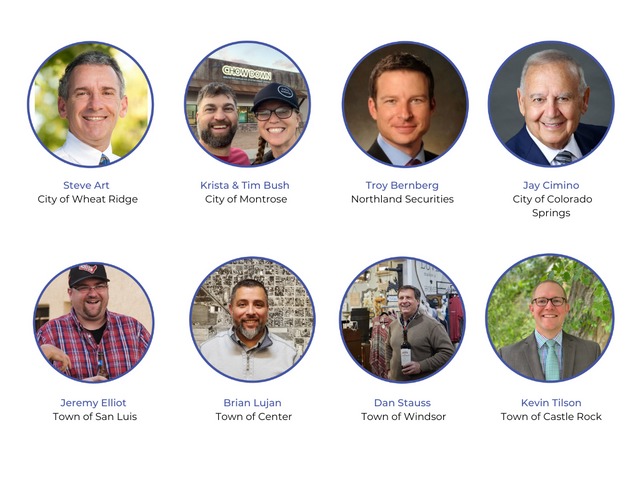 The Vicki Mattox Downtowner of the Year Awards recognizes individuals who have shown exemplary commitment to their local downtown and community. The winners encourage ongoing collaboration and teamwork benefitting the community.The 2022 Winners of the Vicki Mattox Downtowner of the Year Award include:
Steve Art, City of Wheat Ridge
Steve Art is the Economic Development Manager for the City of Wheat Ridge and the Executive Director of the City's Urban Renewal Authority. He promotes intelligent growth for the community while promoting the values of Wheat Ridge and has been with the City for over 11 years. Steve has helped Wheat Ridge to see unprecedented City growth with the development of new housing options, shopping centers, and the creation of a new downtown along 38th Avenue. Steve has served as DCI's Board President for five years and has helped us shape a stronger and more sustainable organization.
Troy Bernberg, Northland Securities
Troy has supported DCI for over a decade in many roles with different organizations. His passion for our organization is evidenced by the hours and enthusiasm that he brings to all that we do. His dedication to good projects and guiding communities has helped shape DCI's work this past year working with Idaho Springs, The Town of Eagle, managing our fiscal health, our urban renewal work and and so much more.

Krista + Tim Bush, City of Montrose
Krista and Tim Bush are community-oriented and have provided the community with resources for their furry friends. Krista and Tim Bush have been focused on cultivating an exceptional quality of life in the Montrose community and surrounding communities. In 2021, they reached an exciting milestone for their business. They were able to officially reopen at their new 10,500 square feet location in Downtown Montrose. Krista and Tim expressed their desire to stay Downtown. A building became available but it posed challenges, including asbestos and an underground ink storage tank which had been used for newspaper production. They decided to move forward and have revitalized a blighted corner lot in the heart of our downtown. Their commitment to the Montrose community is exceptional.
Jay Cimino, City of Colorado Springs
Beyond being the President and CEO of the largest privately-owned auto dealer in the state of Colorado, this downtowner is a renowned philanthropist who is creating social impact and changes for the state's residents and beyond. Jay formed, and was a leading member of, the Gang of 14, a group of impassioned individuals who shared a love of Trinidad, Co, and what returning Fisher's Peak could mean for its residents. He was instrumental in the formation of a public and private partnership, which started with a sell conversation with the owners of the private owners of the Crazy French Ranch, to engaging and collaborating with Great Outdoors Colorado (GOCO), Trust for Public Land (TPL), The Nature Conservancy, Colorado Parks & Wildlife (CPW), the City of Trinidad, Governor Polis, and other state, local, and government agencies. Today, Jay is very engaged with the local stakeholders, city officials, and developers. This downtowner also founded two nonprofits with a passion of building community and serving those most vulnerable. In response to the pandemic, both nonprofits stepped into action to help residents face unprecedented challenges.
Jeremy Elliot, Town of San Luis
This year we're remembering Jeremy Elliot and presenting a posthumous award for Downtowner of the Year. Jeremy Elliot was a self-taught photographer and champion of the town of San Luis, where he worked on the staff of the Costilla County Economic Development Council. In early October Elliott died from COVID-19, and his death left holes not only in the hearts of community members but in the town's strategy to revitalize itself. Jeremy was helping shepherd a few projects for the community, including recent grants provided by the Colorado Department of Local Affairs to repair five buildings on San Luis' main drag. Among the buildings that received funding is R&R Market, which bills itself as the oldest grocery established in 1857 and in 2019 was listed on Colorado Preservation, Inc.'s Most Endangered Places. The town is also working on opening a coffee shop at its visitor's center. In honor of Jeremy Elliot, we celebrate his life and the contributions to Costilla County and the Town of San Luis.
Brian Lujan, Town of Center
Brian epitomizes what it means to be a doer. Since joining the Town as the Town Manager in 2017, his infectious energy and unrelenting drive to support the community and its residents have begun to transform the small agricultural town into a model for rural revitalization. In working with the community and DCI and he is the one who brings their visions to reality, and even several steps further. A twenty-year Marine veteran, failure is not an option and so he has refused to let his community down. Brian has relentlessly pursued all avenues to benefit the community and its residents, however novel and innovative, and this last year has featured an incredible number of accomplishments and initiatives to show for it. Brian has brought in money, formed partnership, and effectively managed, and empowered the community to support downtown revitalization efforts beyond his personal capacity.
Dan Stauss, Town of Windsor
Dan serves as the current and longest tenured chairman of the Windsor Downtown Development Authority. He has been an active board member since its establishment in 2011, serving in varying capacities including committee chair, vice-chair, and chair of the board. Without his efforts they may not have a DDA.
Kevin Tilson, Town of Castle Rock
Kevin started his position in 2013 and at that time the Downtown Development Authority (est. 2008) was affectionately known as the "Downtown Decorating Committee" due to lack of revenue it was generating ("Decrement" financing) and the DMA only had enough revenue for some flyers and a part time event planner. Kevin has led almost $300M of project investment in just the last 5 years and has grown all the events in downtown by 10X! Now both organizations are thriving and we just broke ground on another $80M project (The View) which brings 250 Apartments, 15K in Office and 10K in new retail to Castle Rock.