FROM VISION TO REALITY! ENGAGEMENT TOOLS FOR BROWNFIELD IMPLEMENTATION SUCCESS
---
DCI continues to provide COVID-19 programming on Thursday mornings from 8:30am-10:00 am. During our October 8th call, we invited the Colorado Brownfield Partnership which is made up of Community Builders, Development Research Partners and CDPHE to share resources and engagement tools for brownfield implementation success. The speakers included Clark Anderson and Danielle Campbell of Community Builders, Amy Johnson of Kit Carson Rural Development, Mark Rudolph of CDPHE, and Jesse Silverstein of Development Research Partners. 
COLORADO BROWNFIELD PARTNERSHIP SERVICES AND RESOURCES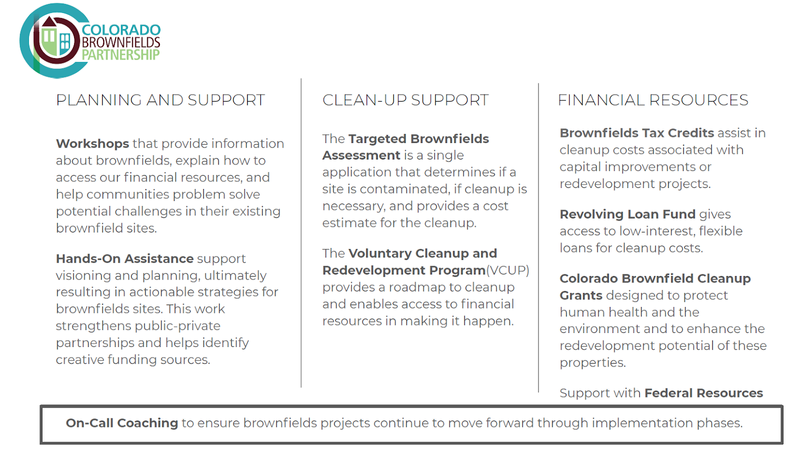 CASE STUDIES
Silverton
Community engagement workshop to discuss needs and opportunities. The workshop provided context and knowledge on economic development, public-private partnering, and financing opportunities. The engagement experience also included an opportunity to identify Silverton's assets and community needs. 
Outcomes: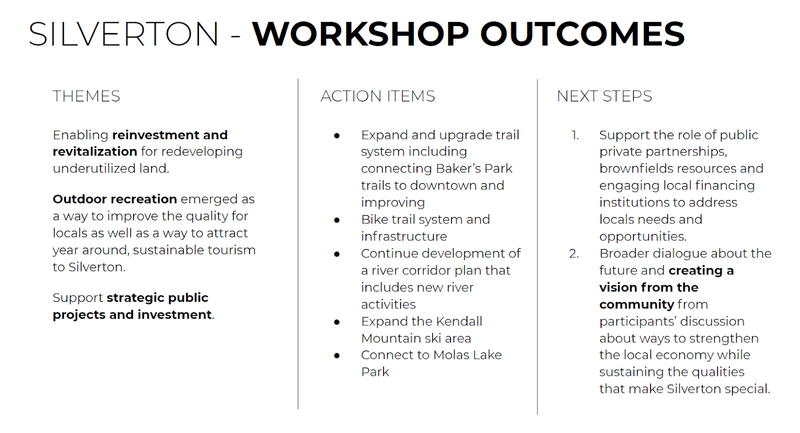 Kit Carson
Development of brownfields is full of many challenges in small-town communities where home values are not as high. The challenges require creative innovation, partnerships, problem solving, and perseverance lead to amazing results that benefit the community as a whole. 
Kit Carson is a small, rural community with many vacant, dilapidated houses or abandoned houses or houses in severe disrepair. There is a housing shortage and new homes have not been built in over 25 years. Kit Carson Rural Development is a nonprofit organization devoted "to promote, beautify and assist in the betterment of the towns of Kit Carson and Wild Horse." Many of the vacant sites are brownfields with concerns of asbestos and other environmental concerns.
Kit Carson Rural Development in partnership with Colorado Brownfield Partnership has been able to address the housing concern in Kit Carson by utilizing brownfields resources, grant money, partnerships, community support, and hard work. 
Kit Carson's Strategies: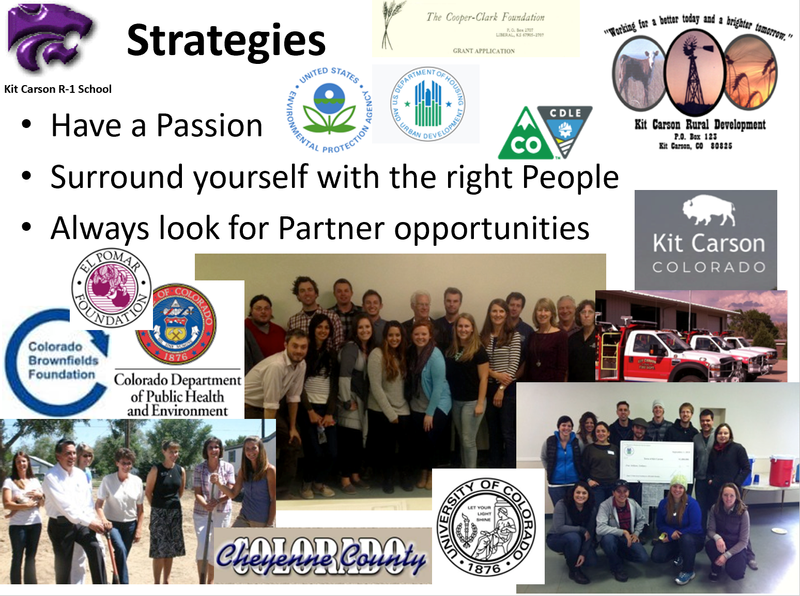 TAKEAWAYS: 
Community engagement encourages identification of opportunities and next steps

Perseverance, creativity and partnerships are crucial when dealing with brownfields sites

Colorado Brownfield Partnership has a variety of expertise and resources to problem solve 
Watch the full event here From Vision to Reality! Engagement Tools For Brownfield Implementation Success, and access the presentation slides here.
---
ABOUT THE PRESENTERS
Clark Anderson:
Clark Anderson is co-founder and Executive Director of Community Builders. He has spent the last 15 years helping communities address complex land use, transportation, housing, and economic development challenges. An entrepreneur, seasoned facilitator, and bridge-builder, he's adept at helping people find common ground through informed dialogue and meaningful public engagement. Clark helps communities create a shared vision for the future and identify the strategies and partnerships needed to get there.
Clark is also a small-scale developer focused on building "missing middle" housing within his own community. Born and raised in nearby Eagle County, Clark currently lives in Glenwood Springs, Colorado, with his wife, Kayce, and their children, Blu and Rayne. He holds a bachelor's degree in biology from the University of Colorado and a master's in geography from the University of California, Davis.
Danielle Campbell:
Danielle is a Project Manager with Community Builders and leads Colorado Brownfields Partnership in on the ground assistance and financial resources. She leads on-call customer service for individuals wanting to learn and access the Program's resources.
Danielle has a strategic focus in real estate and economic development and is uniquely qualified to deliver strategies and best practices for implementation. In addition, she has worked across private, public, and non–profit sectors, making her skills versatile and able to address complex issues across diverse groups.
Amy Johnson:
Amy Johnson is the chairperson of Kit Carson Rural Development (KCRD), a non-profit that focuses on improving the rural town of Kit Carson.  Amy has served as chair of KCRD since 2006, and in that time KCRD has worked on two HUD grants to develop affordable housing, an EPA grant to clean up brownsfields, and a GOCO grant to develop the local park.  In addition KCRD has worked with other funders on affordable housing and other town improvement projects. 
Amy also works on her family's cattle ranch.  She and her husband of 25 years, Toby, manage the family's cow calf operation that has operated in Kit Carson since 1907.  Amy is originally from Bethesda, Maryland and attended Colorado College graduating in 1993. 
Mark Rudolph:
Mark Rudolph has been an Environmental Protection Specialist with the Colorado Department of Public Health and Environment (CDPHE) for over 20 years and has 30+ years of experience working on environmental projects including Superfund project management, site assessments, sampling investigations, and Brownfields redevelopment.  Additionally, Mark has extensive knowledge in mine site reclamation, regulation and operations.  He has experience in monitoring of air, water, emergency response and Quality Assurance and Quality Control planning.  
Jesse Silverstein:
Jesse Silverstein has extensive experience providing commercial real estate strategies, public finance analysis, and economic/fiscal impact analysis for a variety of public-private development and redevelopment projects.  Jesse's market intelligence services are used for critical decisions regarding real estate investment and economic development opportunities in Colorado and nationally.  Mr. Silverstein's experience includes positions as founder and executive director of the nonprofit Colorado Brownfields Foundation, director at Equitable Real Estate Investment Management, and Chief Appraiser for the Resolution Trust Corporation (a division of FDIC) in Washington, D.C. Mr. Silverstein holds a bachelor's degree in economics from the University of Delaware, a master's degree in economics from the University of Colorado Boulder, and has an MAI professional designation in commercial real estate analysis from the Appraisal Institute.