POP UPS & VACANT PROPERTY ACTIVATION
---
Engage & Activate: A DCI Downtown Institute
Part 2
This presentation and discussion, led by Brian Corrigan of Futures United Network (FUN), demonstrated the value of incorporating creatives and creative entrepreneurship into the problem solving process within urban planning and community development. He works at the intersection of the creative economy, technology, and community development and shared strategies on how to activate vacant buildings through various avenues, including pop-ups, incubators, and public art.
Creative Placemaking: Intentional integration of art, artists, and creativity into the community planning and development.
This asks: How do we bring artists and designers and creatives to the table to really think of the artistic process as a form of problem solving?
Activation
                    Accelerator/incubator for the creative sector
- 100% Colorado designed goods
- Offered grants to creative entrepreneurs
- Voting process (free marketing!)

Low budget: low cost, creative alternatives. Use creativity to make it happen!

- Dumpster diving!
- Cardboard, sharpies, etc.
- Recyclable materials

Built and grew through multiple iterations
Creativity
Creativity is a renewable resource

- Creates a level playing field

- It can come from anyone or anywhere
Community Pride
A place can see itself differently and create its image

Give Access

- Provide permission to creative people to demonstrate what they can do

Get rid of the red tape to make this possible

Practice Openness
Have a willingness to try things and just do it
Energy
- What energy is your downtown exuding? Your stores? Your stories?
- Energy builds more energy: What energy are you putting out there?
- It's contagious, what are you doing to spread this energy?

Entrepreneurship is the package you put that energy in so you can drive an improved future.
Creatives, Entrepreneurship, Creative Businesses
- What is happening locally, right in front of you? Look for potential there.

Meow Wolf Example

- Artist collective, had nearly given up
- Started in a vacant bowling alley
- Grew into a lucrative and successful collective

San Luis Valley Example

- Artist created 3D printing with alternative materials
- He was inspired by his experiences growing up in the SLV

- It's important to include and showcase creativity that is born out of small places, rural places, all places.
- We can't just have creativity come from the city – it starts to all look the same.

- Challenging the "everyday"

Do stores need to be in normal buildings?

- What could a store look like?
- How could we design or do this differently?

- Interesting Storefronts: Cupcake Store Monster's Mouth Entrance

- Magical, fun, sparks imagination!
- Can storefronts be a form of public art?

- Alternative/Everyday Materials
- For use in stores or public art or in pop ups
- Use creativity to bring the everyday into excellence
Experience economy
- Built out of a store that only sells experiences
- The "experience menu" allows people to connect with one another and have fun
- What can your community experience be?         
After the presentation, Brian led a brainstorming session asking participants to think of the possibilities that could be done with a vacant space – we used our example space across the street as inspiration. Post-It Note ideas included: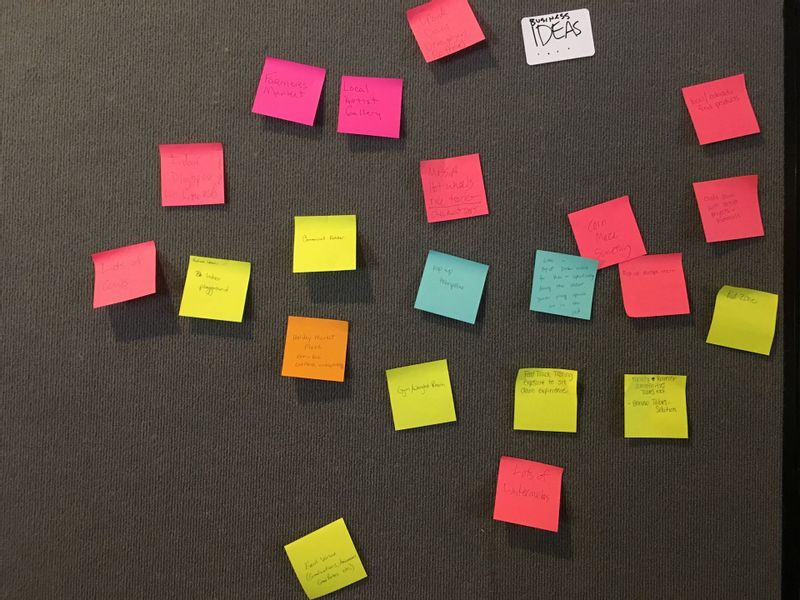 Big Ideas
- Indoor Playground
- Commercial Kitchen
- Pop-Up Escape Room
- Holiday Market
- Pop Up Trampoline Space
  Barriers + Barrier Solutions
- No Interest = Use community resources to promote
- Lack of Money = Donation/fundraising campaign
- Outdated façade = Temporary changes to storefront based on pop up experience