ENGAGING YOUR COMMUNITY & GETTING INPUT
---
Engage & Activate: A DCI Downtown Institute
Part 1
June 11, 2019 | Lamar, CO
Downtown Colorado, Inc. hosted Engage & Activate: A Downtown Institute in Lamar, CO on June 11, 2019. We had representation from multiple communities from the southeast Colorado area including the City of Lamar, community members and business owners in Lamar, the City of Florence, Kiowa County, City of Central City, and Prowers County.
The event consisted of multiple presentations by Ben Levenger of Downtown Redevelopment Services and Brian Corrigan of Futures United Network. Below we've summarized key points from the Community Engagement Toolbox presentation on how to increase community engagement at public meetings. 
Community Engagement Toolbox
This presentation, shared by Ben Levenger of Downtown Redevelopment Services, focused on strategies to engage all members of a community while adapting to a changing and digital world. He shared several examples of how to modernize your typical approaches to increase community participation in public meetings. Ben shared three helpful tactics to increase revitalization efforts: 1) Effective Public Engagement, 2) Vibrant Community Assessment, and 3) the Revitalization Roadmap.
Effective Public Engagement & Input: How to Effectively Gather Input in the Digital Age
Roadblocks to Engagement
- Old Methods
- Apathy
- Unresponsive community
- Hearing but not listening
Strategies to Increase Engagement:
- Be Aware of Changing Trends: Set up an inclusive community that invites and welcomes residents to public meetings. Set this tone through a variety of strategies: Inclusive marketing. Prioritize local-based communications over exclusively social media. Focus on person-to-person interactions. Really try to understand residents. Residents need to feel included at community events.
- Liven Up Public Meetings: Provide multi-sensory experiences at public meetings. People can get more engaged with games. It increases the feedback. People are more open and share more. Provide areas of entertainment to occupy children (ie coloring books and crayons) accurate information when in a person to person small conversation. Increase communication methods.
- Open Mic Opportunities: Less programmed Feedback and more open mic. Let the content be determined by priority of the audience. Consider ways to group similar interests together. Make it inclusive regardless of differences.
- Increased methods of communication: Strategically use social media. Be adaptive and mix styles. Be consistent. Be inclusive and allow all voices to be equal.
- Guided Exploration: Help wrangle answers to stay in parameters of discussion… Use the Stepping Stones for guiding discussion – A tool to guide community conversations with no set path. Allows you to set topic and then consider the questions on the following levels:

- Community-wide
- Corridor specific
- Parcel specific
- Stepping Stones: This tool can be used in guided exploration. Have community members begin at the top and move through the cart to the bottom. There are no wrong answers here!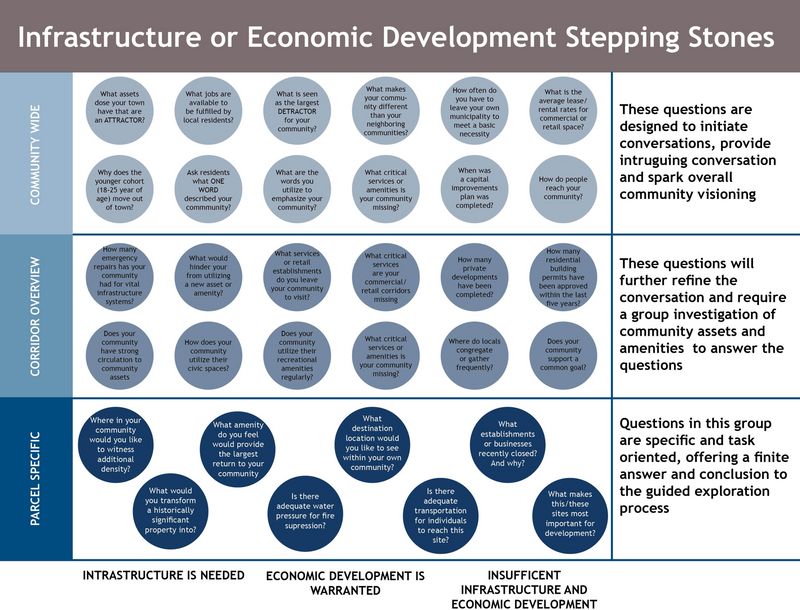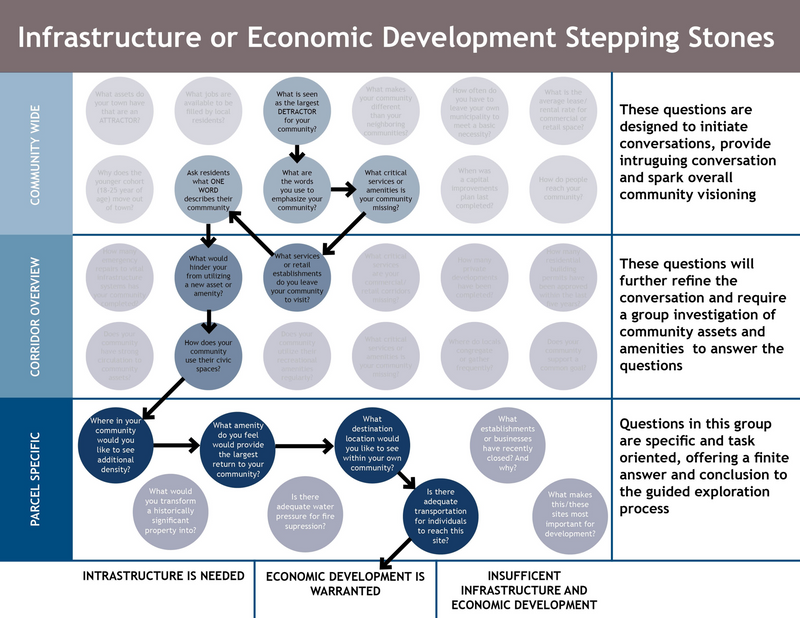 Vibrant Community Assessment: The VCA is used to help gain a deeper understanding of your community. This type of assessment is vital because it is the first step in creating an achievable and implementable redevelopment plan.
Components of a VCA:
Existing Conditions: Seeing what your community has will help you see where you need to go. Assess:

- Building conditions
- Building Utilization
- "Communityness"
- Infrastructure Conditions
- Business or amenities

Community Identity Assessment: What makes your community feel like home?

- What are three words to define the community?
- What do people in your community have in common?
- What are the traditions that link people in the community? 
- Does your community support a common vision?

Building Standards Review: Uphold the building expectations you want to see if your community. Ask more of people and they will usually live up to the challenge. If you lower expectations, you will have less results. Building standards are a collective set of decisions that are agreed upon regarding the look, feel, and behavior.


Connectedness: Facilitate the feeling of a sense of place for your community members by providing experiences that bring them together. For people to experience place, people must meet face-to-face!

- Personal relationships are the foundation of a community.
- Find reasons to get together or get together just because. Experiencing place happens when people get together.
- Focus on inclusion of all demographics with content and timing!

Ownership Observations: Do you have vested citizens? Do citizens take ownership of their community?

- Residents serve the community and vice versa
- Individual actions mount to a large community benefit
- Apathy is a true community killer

External Appearance: What is your town's image? How is it perceived by visitors or prospective residents?

- Appearances of travelers shape the perception of travelers
- Blight affects the feelings of residents
- Appearances affects opinion
Revitalization Roadmap: This tool can help guide you create change by utilizing available resources and helps municipalities "set a course to a strong community".
Elements to the Roadmap include:
Destination Discovery: This step ensures the important background pieces have been put in place before making a project public.

- Ensuring critical conversations are undertaken
- Creating a steering committee
- Creating a unified front for public inquisition
- Providing transparency for the project

Downtown Assessment: This assessment provides a starting place for your community by reviewing current downtown conditions such as:

- Architectural/Façade
- Civic spaces
- Economic health
- Community character
- Legislative or regulatory reviews
- Infrastructure systems

Public Input: This step ensures that the municipality or consultant understands the community and knows their opinions.

- Stakeholder input meetings
- Community input meeting
- Community charrettes
- Blunt conversations
- Creation of a shared vision

Making the Map: Although detours are to be expected, having a set of guidelines as a map will help reach your goal and stay on track. Downtown Redevelopment Services recommends to:

- Real Estate Investment Strategies

- Community Capacity

- Placemaking or asset personification

- Built environment assessment

- Prototypical block and streetscape guidelines

Stay tuned for Part II, featuring presentations from Ben Levenger and Brian Corrigan on activating vacant buildings!