2017: A YEAR OF VIBRANT DOWNTOWNS
---
As we head into 2018, we want to thank all of our members and all of the wonderful people we met around the state this year and reflect on all of the discussions, workshops, and solutions that came out of all of our adventures. We celebrated our 35th year in 2017 and every year we are constantly working to bring relevant training and topics to our communities.  The themes of our work in 2017 were affordable housing, more rural and small business training, growing 
VISTA program
 (which doubled from 4 sites to 8 sites throughout Colorado!), urban renewal and other special district meetings, new partnerships and members, and much more. We hope to continue our work on these topics this coming year while also weaving in new themes. The following summary is just a snapshot of some of the work we've done. It does not capture every wonderful event throughout the entire year.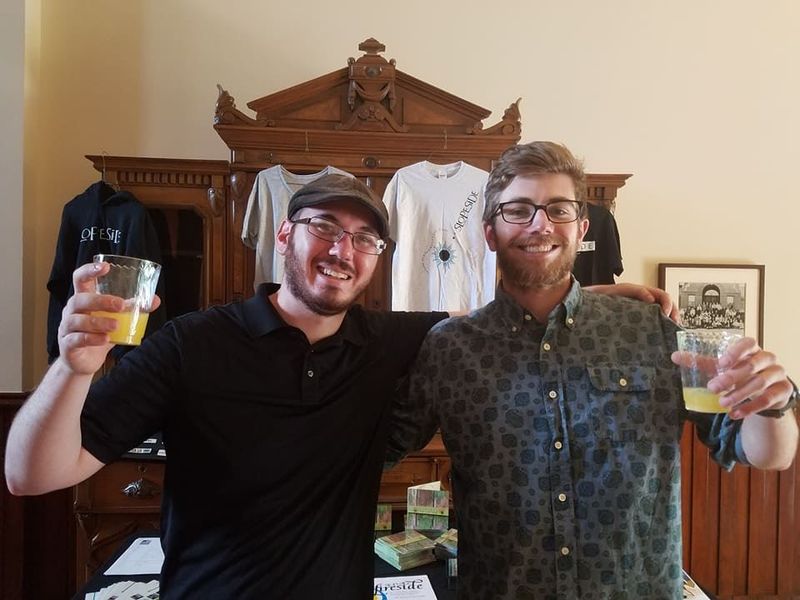 Celebrations from DCI's 35th Birthday Party Celebration (DCI Staff: Eli Levine (former) and Will Cundiff)

A huge part of what DCI does is provide technical assistance to our communities in innovative forms. We started off the year focused on perhaps the most pressing topic in Colorado, affordable housing. We brought together stakeholders working at many levels, including developers, designers, municipalities (regional and state) for two workshops early in the year, Grand County and Buena Vista. In November, a third Rural Housing Workshop was held in Clear Creek County. We are continuing our innovative approach in January within Clear Creek County with a pilot program in Idaho Springs considering long term development impacts and best practices. During 2017, DCI also completed Downtown Assessments in Parachute and Sheridan. If you are interested in reading some of our technical assistance reports, head to our Reports and Case Studies page. Here are some testimonials from these events.
"The most useful take away was learning about different ways communities can fund affordable housing and the great examples presented that demonstrated public-private partnerships"
"Using real-world examples is good. Helps one think about different approaches that could be adapted to, or inform, our unique community situations."
"It was a great networking opportunity. I took away a great understanding of what the next steps need to be to move forward."
Also during 2017, we contributed to the dialogue on homelessness with two City Builder Forums. We then worked on addressing business training later on in the year with our Downtown Institutes for Business in Grand Junction, Hot Sulphur Springs, Yampa, Craig, Monte Vista, Buena Vista, and Walsenburg. These business trainings  served to give businesses hope that they can thrive in an Amazon world. Here are some testimonials from survey respondents in those communities:
"I really appreciated the fresh approach for helping small businesses by giving new ideas and confirming that we do not have to spend large amounts of money to be competitive in today's business world."
"Knowing that we are capable of providing the services and products that a bigger city may offer is in reach as long as we set the "bar" above and beyond our norm."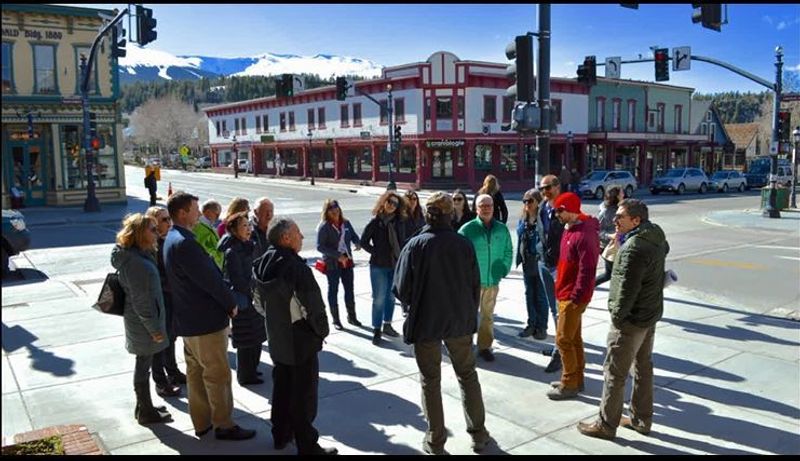 A tour of Breckenridge as part of our 2017 Vibrant Downtowns Event, IN THE GAME
The highlight of our year is always our annual Vibrant Downtowns event, IN THE GAME. We had a wonderful conference in Breckenridge in May aimed at getting our communities to put some skin in the game. 
You can check out the recap of the entire conference here
. We flipped the format on the tradition 'talking heads' conference and introduced 
Challenge Studios
, workshops based on a challenge facing a participant or a participant's community that are designed to transform a community's difficult challenges and problems into promising opportunities. You can see last year's Challenge Studios reports 
here
. The Challenge Studio format will continue in 
2018 in Boulder
. The deadline to submit your challenges for next year is January 31st  (
remember, we are here to help!
). Also be sure to 
register for the conference
 in April 2018 by February 1st to take advantage of early bird pricing! After you register, be sure to 
nominate a project for Governor's Award
s!
We are so excited for 2018 and for many more informative, innovative, and fun events. We continue to strive to serve our Colorado communities with everything we do and we hope you will be a part of the future of vibrant downtowns in Colorado. 
Come join our Annual Member Meeting on January 31st to participate in shaping our year.